Outdoor Kitchen Cabinets Built to Last a Lifetime
Leading Outdoor Kitchen Experts in Design and Installation
What to expect when you choose our polymer cabinets:
What to expect when you choose us:
Outdoor Kitchen Cabinets and More
FAMILY OWNED AND OPERATED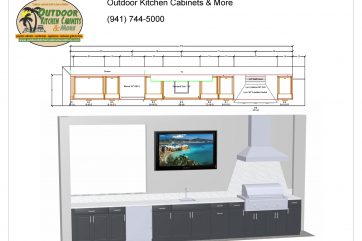 Design & Construction
Our licensed professionals design custom outdoor kitchens for your space and budget, and provide free 3D renderings of your project.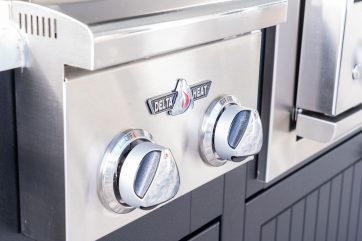 Outdoor Kitchen Appliances
Outdoor Kitchen Cabinets & More offers a growing selection of the highest quality appliances available at very competitive prices.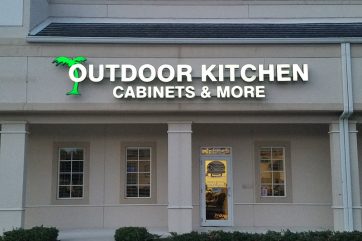 Outdoor Kitchen Showroom
Our showroom and design center is conveniently located in Lakewood Ranch, FL right on Lakewood Ranch Boulevard, close to I-75 and SR-64
Don't Take Our Word For It…See what people are saying about Outdoor Kitchen Cabinets and More!

Lee Holbrook
19:47 07 Sep 21
I would give Outdoor Kitchens 10 stars if I could. This is a local, amazingly professional company that does it right. Every aspect of my dealings with Clark (President), Jean (Customer Relations Manager), or their amazing install teams has been absolutely superb. I highly recommend using their website to begin the process. The website allows you to systematically indicate what you are looking for, and provides an option to upload a picture of the area you have in mind for install. An Estimator will then survey your area and the company will send you and estimate. You will then be given an appointment to come to their showroom to pick out materials and equipment. EVERYTHING offered by this company is of the highest quality. Once your cabinets are manufactured and equipment received, the install team will work their magic installing cabinets, followed by the granite team, and then the final install of equipment. I had an absolutely superb experience and love my outdoor kitchen. It simply could not have gone better. These guys are outstanding. One note: As with everything these days, it takes time to manufacture and obtain equipment, so I recommend starting the process early. Your patience will be rewarded well beyond your wildest expectations. Absolutely superb company with even better people!!!

Elizabeth Lemons
14:54 31 Aug 21
Working with Clark and his team to design and install my outdoor kitchen was fantastic. They have a very well defined process and I was fully informed every step of the way. Every deadline was met and the project came in exactly on budget. Clark and his team were exceptionally responsive to any and all inquires I had. I LOVE my new outdoor kitchen and would recommend Outdoor Kitchen Cabinets & More without hesitation.

Ania Rachwal
19:14 23 Aug 21
Extremely satisfied with their work. Communication was great from the moment we signed the contract to the day all was completed.

Eric Ingalls
18:20 19 Aug 21
Clark did a great job with both the design and installation of our outdoor kitchen! We were extremely pleased with how everything turned out!

Catherine Proske
19:01 24 Jul 21
Agree with all of the praises of this company. But the TRUE TEST is what happens when, after installation, you have a problem. Here is where they score HIGH. Called Clark and within 48 hours someone was at our home and fixed a problem in 5 minutes. Thanks, Clark!!!!

Outdoor Kitchen design and built the perfect granite and polymer outdoor kitchen to replace its wood and tile predecessor, which had fallen apart after 22 years. The installers were superbly professional, paying meticulous attention to every detail, and treating the project as if they were making their own personal kitchen. I could not have hoped for a better result. Thanks Outdoor Kitchen.

Terri Rehm
01:45 18 Jun 21
So I originally wrote how upset I was because I had issues getting an appointment and could not get past Jean the assistant. I said I would update my post if something changed. Well I did get a call from her and she did arrange for me to get an appointment to do an outdoor kitchen Island. This is all new to me and my husband, as we are originally from Indiana and these are not really a thing there. I have talked to 2 other companies and gotten 2 other estimates. I've asked all 3 the same questions and I've had 3 different answers. I can say that Clark's answers were by far the best. He has by far the best products and I've determined what other companies have told me is not correct, after meeting with Clarke. So I'm very impressed, which is a huge turnaround from when I felt I couldn't get an appointment. I'm so glad I did and was able to go in. I'm in the process of waiting on my drawing and estimate which takes about a week. I'm excited to see it and see what happens. So more to come. Terri

craig hern
10:13 12 Jun 21
Clark will help you layout your kitchen in the showroom His installers are honest and friendly. This is a great company to do business with.

Amy Shahda
08:00 12 Jun 21
Highly recommend Outdoor Kitchen Cabinets & More. The whole process was very smooth and the end result was exactly what we wanted. So glad we found them!

Bob Kichler
18:51 22 May 21
Great experience from beginning to end. Clark is knowledgeable, easy to work with and listens to your wants and needs. Fairly priced too! His installation guys were top notch and my wife and I could not be more pleased with the experience!

Diane Pidgeon
20:27 13 May 21
We absolutely love the finished product. A great company to work with and great customer service.

We love our new outdoor kitchen. Excellent customer service, an on time delivery and professionally installed.

Susan Powell
21:17 07 May 21
Excellent from beginning to end

Beau DiFrenna
11:53 14 Apr 21

Amazing company. Outstanding products and very knowledgeable and professional team. Highly recommend!!

Mia VanBuskirk
19:53 11 Apr 21

Jim Bernth
13:48 11 Apr 21

Carolyn Bernth
11:57 11 Apr 21
If we ever put in an outdoor kitchen we would definitely use Outdoor Kitchen Cabinets & More!

Tyler Needham
13:44 10 Apr 21
I can't say enough about the great people at Outdoor Kitchen Cabinets & More! The entire team had excellent customer service and our kitchen was completed in record time!

Luis Aguilera
12:49 10 Apr 21
Besides the great work that they did. Seriously, great people and really put thought and effort. Outstanding work!

Rachel Stufflebean
02:21 10 Apr 21

Devin Gooby
00:54 10 Apr 21

Stephen Baker
00:46 10 Apr 21
Completely blown away by Griffin and his team! We looked long and hard for someone to execute what we had envisioned and they knocked it out of the park. Thank you! 🥇

Trent Christman
00:08 10 Apr 21

Dylan Bezet
00:00 10 Apr 21

Luke Graham
23:57 09 Apr 21

Olivia Karow
23:51 09 Apr 21

Michelle Washburn
23:43 09 Apr 21

Aimee McCullough
23:41 09 Apr 21

Shy Quiles
23:38 09 Apr 21

Lucy Chang
23:28 09 Apr 21

Anthony Jackson
23:27 09 Apr 21

Leanne Baker
23:17 09 Apr 21
Amazing design, flawless install. Just beautiful! Griffin was a complete professional and we recommend him highly! We love our new outdoor kitchen! Thanks again!

Nicole Waddell
23:15 09 Apr 21

Maverick scarberry
23:10 09 Apr 21

London Garner
23:09 09 Apr 21

Jaimee Grace
23:09 09 Apr 21

Lauren Dalton
23:09 09 Apr 21

Makenna Moorea
23:09 09 Apr 21

The entire team at outdoor kitchen cabinet is both excellent and incredible. Some of the best customer service that I've ever witnessed. If you are looking for an outdoor kitchen, I would highly recommend that you look no further.

Carter Thomas
14:32 07 Apr 21

Timothy Thomas
12:11 07 Apr 21
Great service. Great company that provides quality work!

Danny Vega (AnarchoStrong)
09:42 07 Apr 21
Quality work and great service!

Jasmine Rojas
03:32 07 Apr 21

alex krakowski
02:53 07 Apr 21

Moriah Bernth
02:10 07 Apr 21

Clinton Stacy
01:12 07 Apr 21
The leadership of this company is outstanding! They are always so kind and considerate at execute everything so well! Awesome people!

Grace Trautweiler
01:10 07 Apr 21

Eric Burgess
01:09 07 Apr 21
Amazing professional experience! They got my estimate done in a timely fashion and delivered white glove service to the letter. I love my outdoor kitchen and would rather be there than anywhere else in the house! If you haven't already gone with this amazing company then here's your wake up call! Thank you guys at Outdoor Kitchen Cabinets and More!!!

Carlos Magana
01:06 07 Apr 21

ryan biolsi
00:53 07 Apr 21

Caleb James
00:36 07 Apr 21

Bryce Larkin
00:33 07 Apr 21

Doug Dolan
14:59 30 Mar 21
Have worked with Clark and team over the last few months to design and install our dream outdoor kitchen. Very collaborative and customer focused. Job completed yesterday and made my first steaks, potatoes and asparagus on the grill last night. We are delighted with the finished product. I highly recommend Outdoor Kitchen Cabinets & More!!!

Sherrie Sheppard
16:29 06 Mar 21
We love our outdoor kitchen! Highly recommend! Great American made products!

Matt Duvall
15:09 26 Feb 21
We highly recommend the Outdoor Kitchen and More team, we have a whole new 'room' to our home. They did an amazing job, the appliances are high quality, the cabinets and drawers are very sturdy.

Michelle Beierschmitt
19:56 15 Feb 21
Late last year, we contracted with Outdoor Kitchen & More to build an outdoor kitchen in our lanai. Working closely with Clark who provided expert guidance, our kitchen included polymer cabinets, a granite countertop and backsplash, and a stainless steel sink with running water. In addition, the appliance package (all stainless steel) we selected included a Delta Heat gas grill and hood, a FireMagic single gas side burner, and both a Marvel outdoor ice machine and refrigerator. First of all, we were very impressed with the exceptional quality of these products when we purchased them, most made in the USA which meant a lot to us during these Covid times. The installation of the entire kitchen took place as scheduled, and the team did an exceptional job, even taking the time to review with us all of the components that we selected and their respective operational procedures. In addition, they left all the necessary paperwork and manuals behind for us (which does not always happen from our past experiences). Shortly after the job was completed, we encountered an issue that required us to contact the service department, and were impressed when 2 highly experienced service technicians were dispatched expeditiously to investigate the matter. Importantly, they were able to determine the cause of our concern (which had nothing to do with the equipment or its installation) and successfully addressed the matter with a single visit. Overall, from the design through the installation of our kitchen, the outstanding quality of the products that were available to us, and the excellent service post installation (indicative of a company that stands behind their work), we give Outdoor Kitchen & More our highest rating! Michelle and Bill Beierschmitt (Lakewood Ranch, Florida).

Dawson Kelleher
18:11 08 Feb 21

Ricardo Scharon
18:33 08 Jan 21

Shari Norwick
12:18 19 Dec 20
We are extremely happy with our new outdoor kitchen. The company is very professional, the products are excellent quality, and they take the time to help you design the kitchen that fits your home. All the trades that came to work on our kitchen were skilled, polite, and took pride in their work. I would highly recommend Outdoor Kitchen Cabinets & More.

Michael Torres
03:19 30 Nov 20
Quality product is a result of having quality people... these people are quality.

Isabel Taylor
13:59 29 Nov 20

Emily Elyse
13:59 29 Nov 20

Jacob Kontio
13:57 29 Nov 20

Shaina Cantrell
23:18 28 Nov 20
I know the owners of this company personally and although I don't have an outdoor kitchen yet, they would be my top choice! Talk about going 100%! The skill here is unreal! It's definitely Pinterest worthy work! Dream outdoor kitchen for sure especially if you love to entertain! Also The customer service is outstanding! You will love working with this business!


Tyler Teaford
20:58 28 Nov 20

Grace Bernth
20:42 28 Nov 20

Christine M.
08:32 24 Nov 20
An outstanding job was completed by Clark and his team at Outdoor Kitchen Cabinets and More! From start to finish, from design plans to the final construction, we have nothing but praise for our entire experience. Communication was excellent and the cabinets and kitchen components are top quality. You will be happy with their workmanship and timelines, and they will not leave the job until everything is cleaned spotlessly. We highly recommend contacting Outdoor Kitchen Cabinets and More. Clark & crew are extremely knowledgable, professional and met all expectations. Thank you! Too many positives to list on our build out. Quality of material and people over exceeded our expectations. Top to bottom will recommend this company over and over!! Clark and his crew are the absolute best. Their expertise, artistry, design and attentiveness are top notch. If you want perfection, this is the company you want to go with. Thank you Outdoor Kitchen Cabinets and more for all you have done for us. We are customers for life!

Maria Ardattan
16:57 25 Aug 20
Exceeds exceptions. Was given a few options and very happy with the results.

Griffin Trautweiler
00:08 13 Jul 20


We recently had our outdoor kitchen installed by this company. Clark, the owner was great to work with and gave us great ideas. The quality of the materials...

Elenor Fremont
14:53 30 May 19
Really happy with the quality of Polymer Cabinetry. Great people! Give them a call!

Robert Terry
23:12 13 Dec 18
Clark and his crew at Outdoor Kitchen Cabinets & More are amazing! Family run business, very competitive prices. Extremely high quality materials expertly installed. My wife and I chose less expensive/ more budget friendly materials but were blown away with the finished product. Cabinet will last a lifetime, and is guaranteed to. Grill is made in USA (Delta Heat) and is twice the quality of the chinese imports we were considering (Lion, Bull, Blaze). Fit and finish are outstanding.Quartzite countertop is gorgeous. We were able to visit the supplier and pick out our slab in person. We then were able to go to the cutter to personally arrange the pre-measured template on the slab for best effect.The showroom is well located and we were able to see/touch/feel the cabinets, sinks, plumbing, countertop samples etc. Do yourself a favor and at least give Clark teh opportunity to show you what he's got. You'd be crazy not to!! Clark and his crew at Outdoor Kitchen Cabinets & more are amazing! Family run, very competitive pricing, on time and on point! High quality materials professionally installed with pride. A satisfied customer sent me to them, and I'll keep pointing people in their direction. 5 star rating !!

Nancy Burch Moody
21:43 18 Sep 18
Great visit. Clark provided us with options, suggestions. He was well informed about products and helped us make selections. He told us what to expect from now to installation.

Christine McKelvey
18:24 14 Jul 18
We love our outdoor kitchen! The entire process from concept to finish was professional and thorough. They provide guidance and insight into how the space will be used, which we found invaluable. Communication was excellent and the outcome exceeded our expectations. Highly recommend. Clark and Linda carry only top quality cabinets that last and really go out of their way to provide wonderful customer service. I would highly recommend them! Love my outdoor Kitchen. They designed exactly what I wanted. Great people to work with. Efficient, friendly. Highly recommended!
Outdoor Kitchen Cabinets & More
11033 Gatewood Drive Lakewood Ranch, FL 34211
Contact us today for a project quote and let's get started on your dream outdoor kitchen.