Estimates
Follow these easy steps to get the Outdoor Kitchen of your dreams.
5 Easy Steps to Creating & Enjoying Your Outdoor Kitchen



1. Provide a picture of the area you would like to work with, along with a few key measurements.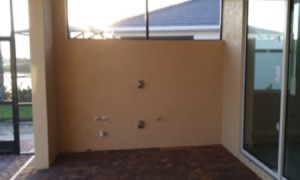 2. Create a "wish list" of components you would like.  Your wish list may contain a grill, side burner, sink, refrigerator, ice maker, hood, etc.  If you have some designs ideas in mind in regards to how you would like your outdoor kitchen laid out, we will work with you to design the outdoor kitchen of your dreams.  If not, that is ok too, just bring a picture of your space, along with measurements and your wish list of components and we will create a design that best suits your needs.  After all, that is our expertise.
3. Stop by our Lakewood Ranch showroom or call (941) 744-5000 to set up an appointment so we can show you the various appliance options available, as well as review and see the types of constructions methods and materials we use.  We offer high-density polyethylene (polymer) cabinets in various door styles and colors, as well as stucco and stone exteriors. 
4. Receive a kitchen plan and estimate based on the components selected from your showroom visit.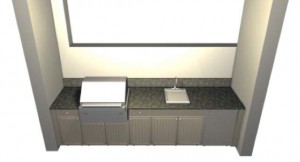 5. Enjoy your new outdoor kitchen and join our long list of happy customers!  Take a look at some feedback on our testimonials page!