About Us
Learn about Outdoor Kitchen Cabinets & More.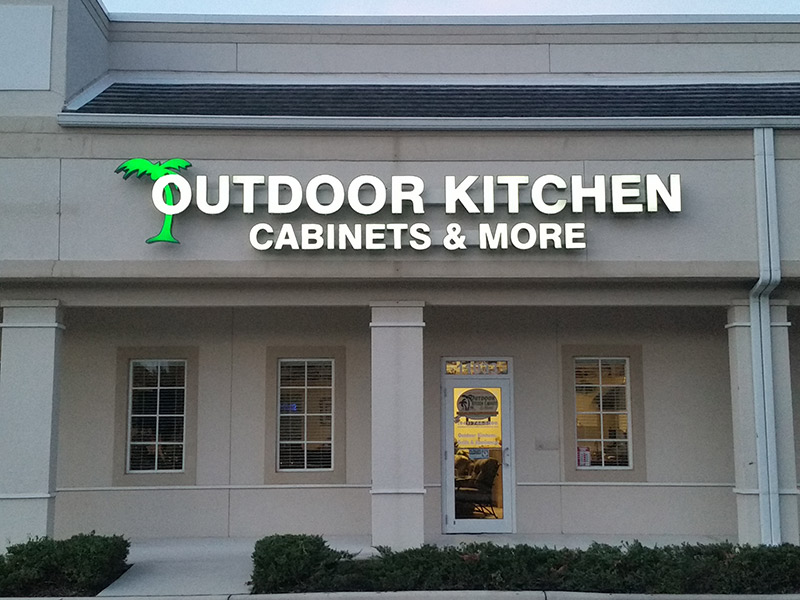 Family Owned and Operated
We are a family owned and operated business of three generations that have been in residential construction since 1964. We successfully ran our own large scale, waterfront home building and remodeling business in the North East that was strictly based on customer referrals. We prided ourselves on our hands-on approach of analyzing our customers needs, providing creative designs, and utilizing unique products and materials. We took our customers dreams and made them a reality by working closely with them, completing their projects in a timely manner, and most importantly with superior quality and excellent customer service. After moving to Florida, we began our own personal search for an outdoor kitchen. We knew we wanted a functional, cabinet-style outdoor kitchen that would provide the same conveniences and functions of the indoor kitchen. Most importantly, we wanted to feel comfortable spending money on a product that would last outside in the Florida weather. We were not very happy with some of the outdoor kitchen materials being used today and were a little surprised that we did not find a product that was more durable for the Florida weather. Being in the construction business, we recalled coming across a polymer cabinet product that was designed specifically for the outdoors. We were able to relocate the cabinets and meet with the manufacturer. Having undergone years of research in developing the perfect chemistry for their polymer, we were very impressed. Seeing for ourselves the beautifully designed European-style cabinets and realizing the extent of the products durability in being an ALL WEATHER RESISTANT product, we knew that this was the product for us. We knew this was the product that would last in the Florida weather. This product is unlike wood, stucco, or concrete. Concrete/stucco kitchens mainly only offer counter top space with no storage options and wooden kitchens will deteriorate over time. This product withstands the elements of the outdoors such as sun, rain, snow, and saltwater. What more could you possibly ask for? We also realized that if we loved the product that much, other people would feel the same way.
Experience
With our many years of experience in knowing what customers want in top-of-the-line quality products, we turned our own outdoor kitchen interests into creating a storefront to showcase this amazing product that weathers the outdoor elements and functions like no other outdoor kitchen. Having the best in an outdoor cabinet product, we wanted to compliment them with quality grills and outdoor appliance lines. We carry American made top-notch grills lines such as Lynx, Alfresco, American Outdoor Grill and Fire Magic. Lynx has serviced a number of commercial food businesses such as Disney World, Universal Studios, Hilton, Hyatt, Applebee's, TGI Fridays, and many, many more. Lynx offers a lifetime warranty on their famous red brass burners. Alfresco was developed by one of the founders of Lynx and is very similar in quality and characteristics. R.H. Peterson has building grills for over 50 years and manufactures the Fire Magic and AOG lines. These manufacturer's legendary reputations and long standing history in the cooking field was what we were looking for in quality manufacturers. We believe it is important to use well built quality grills when building them in to an outdoor kitchen. That is why we chose these reputable grill manufacturers.
Licensed Professionals
We are proud to say that we were the pioneers and now the industry leaders in polymer outdoor kitchens. Our expertise in this industry and knowledge of our products are well known. We are one of the ONLY outdoor kitchen companies that has a Certified Residential Contractor License. What does this mean? This means that we are licensed to remodel anything in your home that you may need to accommodate your outdoor kitchen space. This ALSO means that we can, by law, contract and coordinate your job with any other fully licensed and insured contractors that may be needed to complete your job, such as electricians, plumbers, and gas professionals. This is a very important factor when choosing a company to work in your home. We take your job from concept to completion!
Highest Quality Products
We found quality products that we truly believe in and felt that in all of our years in business, we have held ourselves to certain standards of service. We built a company on quality workmanship, quality materials, and an excellent reputation of hands-on service with our customers. We felt that we found the same qualities in our product manufacturers. That is why we took it to the next level and started this company using the best of the best. We are incredibly excited to be able to share with our customers the same products that we fell in love with and truly believe in. THANK YOU FOR YOUR INTEREST!